Warning
: file_get_contents(https://www.googleapis.com/youtube/v3/videos?part=snippet,contentDetails&id=4lyUNs7eNhs&key=1): failed to open stream: HTTP request failed! HTTP/1.0 400 Bad Request in
/home2/pratt/steamaddicts.com/wp-content/plugins/youtube-embed/includes/api-access.php
on line
99
Warning
: file_get_contents(https://www.googleapis.com/youtube/v3/videos?part=snippet,contentDetails&id=4drucg1A6Xk&key=1): failed to open stream: HTTP request failed! HTTP/1.0 400 Bad Request in
/home2/pratt/steamaddicts.com/wp-content/plugins/youtube-embed/includes/api-access.php
on line
99
Warning
: file_get_contents(https://www.googleapis.com/youtube/v3/videos?part=snippet,contentDetails&id=piZrjDTx2eg&key=1): failed to open stream: HTTP request failed! HTTP/1.0 400 Bad Request in
/home2/pratt/steamaddicts.com/wp-content/plugins/youtube-embed/includes/api-access.php
on line
99
We have mentioned some fan films in the past, but it has come to our attention that we haven't filled you in on the latest info. We're going to do that now.
Escape from City 17
While you all have likely seen the first part  since our site among many others mentioned it, part 2 is out:
Magnificently designed and edited, this is an extremely impressive taste of what we can see in the future of fan productions. This is the series that makes fans want a huge movie from Valve.
Portal: No Escape
Portal: No Escape is a bizarre short film with an interesting twist at the end. As with the others, it is excellently shot and edited.
Sentry Sabotage
Sentry Sabotage is the most amusing and over-the-top entry in our lineup. Explosions, jokes and an overall fast pace really fit in with TF2. Thematically, this one best capture show its individual game feels. The poor acting and low production values only serve to make it more campy and funny.
We will certainly have more videos for you in the future, but until then enjoy this brief taste of the great videos fans keep making.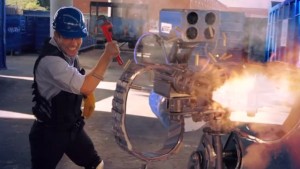 tf2 funny