Some ten weeks ago, a small group of no-name developers debuted an all-new adventure RPG called Terraria that became an overnight Steam sensation.  Steam Addicts manged to grab Game Creator Andrew (Redigit) Spinks for his first post-release interview to find out all there was to know about his hot new game — how it came to be, and what was coming next.  Since then, there have been numerous patches, with each succeeded one improving the game dramatically.  Now that the team is looking to take its next giant step forward with patch 1.0.6, we've grabbed three of the team's lead guys — Andrew (Redigit) Spinks, Jeremy (Blue) Guerrette, and Finn (Tiy) Brice — to see how things are coming along on the development end of things.
(Ed note: We did something a little bit different this time – a "two-fer" with our sister site Nerd Age.  Be sure to check the bottom of the article for more information on the other half of this interview as well as the Terraria giveaway we are doing together.)
How do you balance between doing new features that are quick and easy to add, and those that are bigger in scope but often dramatically improve the game?
After release we did five quick updates to get the game where it should have been for release. Now that we are focusing more on balance and making sure the game is more stable on each patch, our time between patches has increased. This is more for the benefit for players as well, since they will not find themselves facing as many bugs with each patch and also being able to enjoy the current state of the game without having to worry about re-learning how to play every week.
What's the biggest thing you've learned from doing Terraria?
That sometimes, despite a desire to do so, its tough to meet the demands of your fans. Also that as a developer, you should always remember that your ideas come first, and if possible, add something the fans want. To ignore that, will make the game too unbalanced as too many ideas can clash if they are not integrated correctly with the game as a whole. Simply put, you can't appease everyone.
What percent of new game ideas have come from the players versus the development team, and how do you balance the two?
Interestingly enough, many of the ideas fans send our way were already something we have considered adding. This just goes to show that many of the possible additions to the game are just 'obvious' things that should be there. Of course, the more fans show desire for something, the quicker we try to add it than we would have without their input.
What kind of feedback have you been getting from the community? What's the one thing you think most fans don't know that you'd want to tell them?
Currently, many of our fans are requesting information on upcoming patches, and what we are trying to implement before we have actually completed the idea. What we would like them to know is that we sometimes do not feel it is prudent to share every detail of development. As some things being a surprise can be just as exciting as knowing all the details. Also, if you mention something in this type of community, everyone holds you to it. So if you end up not being able to get it working right and postpone its addition for a later time, they blame you for it not being there now.
Is Terraria now a 24×7 job for the core team? And if so, what do you miss the most now that you're so crazy busy?
We have no set work hours (at least until we get our official offices up and running), but when we each sit and work on our own specific jobs we sometimes end up working for eight to twelve hours straight. When it comes to design, if you get into a 'groove' you just want to keep going no matter what time it is. And on the other side of the spectrum, sometimes its hard to get the groove going that particular day.
Developers are some of the biggest fans of games themselves. We first found out about Terraria on the Minecraft forums. What's the next up and coming game you guys are looking forward to?
We are all looking forward to (the next Elder Scrolls game) Skyrim.
In a perfect world, what do you wish for the future of Re-Logic?
We hope to eventually have a few projects under our belt, and to have positively impacted the lives of many gamers and stirred in their imaginations something that wasn't there before.
We would like to thank all three members of the Re-Logic team for taking part in this interview.  Be sure to keep it tuned right here to Steam Addicts for all of the latest information on the upcoming 1.0.6 patch as well as other Terraria goodness!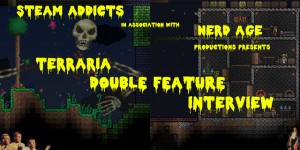 But wait, there's more!
Be sure to check out our sister site Nerd Age for the second half of this exclusive interview.
Don't go yet, there's STILL more!
Steam Addicts and Nerd Age are giving away copies of Terraria for you to play with your friends.  To be eligible, you will need to be following both site's Twitter feeds (a link to our feed is placed conveniently at the top of the page).  Head on over to Nerd Age for the official rules and instructions.
Is there still more?
No.  That's pretty much it…
steam giveaway
,
fallout new vegas old world blues wallpaper
,
terraria product code