Suicide Blitz 2 Version 4 Released
Just got word from RT that the updated version of SB2 has been released:
Version 4 of Suicide Blitz 2 is available for download!

Details can be found at:
http://suicideblitz.info/l4d2.php
07/28/11
Fixed a thing in a test facility for good. Just be patient if a problem occurs and a trained testing associate will accomodate you. Also do not die in there, no more rescues.
Map 2
Fixed a bug specifically in the cafe which would spawn a tank inside of tables
Map 4
Changed the dynamic slightly of the Train Event (Escape). Should be a bit more 'cinematic'.
Map 5
Fixed a bug that would force infected to spawn behind the survivors on round 1 of versus.
Added some navigation and ladders that were previously not there to accompany changes to the finale.
Global
Misc Nav Fixes throughout all maps
For more information and download mirrors, go to the official Suicide Blitz 2 page.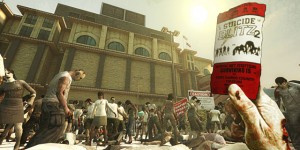 Suicide Blitz 2 Version 4