Just got word from RT that the updated version of SB2 has been released:
Released version 3 of Suicide Blitz 2 tonight fellow zombie slayers. The changelog is at the bottom and the campaign can be downloaded from:
07/12/11
Fixed a bug, somewhere, presumably, that was not working on dedicated servers and only worked on local servers (that should be enough information). The science team assures me it works on dedicated servers now…
Map 1
Added an animation for the cameras in the intro sequence – thanks to bunny for this. Tweaked some parts of the elevator ride from construction level to ground level.
Map 2
Fixed a bug with bots not picking up items on versus
Fixed a problem with some of the fires being too hot. Their core temperatures have been magically reduced.
Map 3
Fixed a bug with the saferoom door causing the crazy Ron audio to keep playing and continuously spawning weapons based off its output.
Global
Misc Nav Fixes throughout
Tweaked the spawning of melee weapons throughout, should be more of them now.
Talked to R.T. for awhile again this morning.  He's very jazzed about the response this map is getting.  (Also, I'd like to thank him for caving into my request to lower the fire intensity in Map 2!) For more information and additional download mirrors, go to the official Suicide Blitz 2 page.  Or:
[Download not found]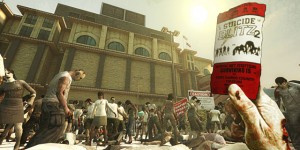 suicide blitz 2 version 3