Commandos: Behind Enemy Lines is a real-time tactics game set in World War II that puts you in command of a small squad of elite troopers. Send them behind enemy lines on a series of hazardous missions, and bring them back alive. Clever strategy has never been so furiously action-packed. Study the enemy's movements, develop a careful plan, synchronize your men, and launch them on a swift and fierce attack using all your power and skill.
You control 6 individual commandos each with a unique combat skill set.
Thwart the German war machine by means of sabotage and tactical genius.
Zoomable isometric camera allows for up to 6 simultaneous camera angles.
20 missions throughout Europe and Northern Africa.
Co-op multiplayer mode on a LAN or over the internet.
You have been selected for active service in the Commandos Corps, and must now mobilize in a series of 8 new dangerous missions. You may come with experience of action 'Behind Enemy Lines' or perhaps you are just a rookie – whatever you are, you will be given the opportunity to push your daring and tactical ability to the limit. As the leader of a small elite unit operating deep within enemy territory, you will experience new challenges and goals with these new missions. Plus new vehicles, buildings, weapons and 2 levels of difficulty will satisfy both Commandos veterans and new recruits.
Distract and confuse the enemy soldiers by throwing stones and cigarette boxes.
Kidnap German soldiers, destroy train-mounted artillery and sabotage prototype aircraft.
Eliminate opponents from considerable distance with the Enfield long-range weapon.
Two new characters; a female member of the Dutch resistance, and a Major from the Yugoslav Partisan forces.
Use ether, handcuffs, a club or your own fists to subdue the enemy.
Commandos 2: Men of Courage is a tactical action/strategy game set against the backdrop of World War II. Take control of an elite group of commandos who must venture deep into enemy territory and utilize their combined expertise to complete a series of mission-based objectives. Go covert into new environments based on authentic WWII locations: the heart of the third Reich, a northern European submarine installation, the headquarters of the Japanese army and more.
Interact like never before: with the environment: steal enemy uniforms and weapons, climb poles, swing from cables, swim, utilize vehicles, and climb in/out of buildings, ships, planes.
Control nine commandos: including a green beret, sniper, demolitions expert, seductress, thief, and even a dog.
All new 3D engine: rotate the environment 360 degrees, move seamlessly in/out of buildings, submarines, planes and under water, and zoom in/out on the environment.
Innovative camera control: simultaneous control of multiple gameplay windows in real time.
Authentic WWII scenarios: 10 missions spanning 9 different environments in night and day with realistic weather effects.
Multiplayer: Go to war with others in a cooperative multiplayer mode (Multiplayer available in PC version only!!!).
New WWII vehicles and weapons: including jeeps, tanks, trucks, ships, bazookas and flame-throwers.
Commandos 3: Destination Berlin is a game of real-time tactics that places you in command of an elite unit of Special Forces behind enemy lines in the European theater of World War II. From the shores of France to the heart of the Third Reich, strike fast from land or sea infiltrating hostile territories and conducting raids to disrupt the German war machine.
Engage the enemy across Europe, from the Eastern front of Stalingrad, to the Gestapo Headquarters in Berlin, to the D-Day assault on Omaha Beach, each offering unique tactical situations and more action than ever before in the series.
Navigate detailed interior and exterior environments using ambushes, assaults, stealth and sabotage to disrupt enemy advances.
Prepare your commandos for a variety of strategies as enemy bombing raids destroy and alter the surrounding environment, requiring you to change your tactics on the fly.
Experience WWII warfare head-to-head in a variety of all new deathmatch and cooperative multiplayer modes.
Improved accessibility: Commandos 3: Destination Berlin features more detailed, smaller maps providing more action-orientated missions that form part of an overall campaign.
The Commandos series has always been an awesome, balls to the walls WW2 tactics game that boasted superb 2d graphics and a rage worthy level of difficulty.  Get the whole pack today for only $7.49, which includes 4 games.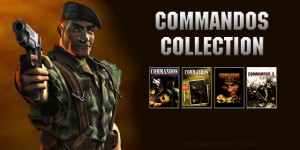 commandos 4
,
commandos collection