A perfect mix of flexibility, creativity and state-of-the-art technology "Two Worlds II" is a perfect blend of classic and innovated RPG features, atmosphere, and technology. A complex quest system and an exciting main story draw you into the world of Antaloor, made richer by secondary quest scenarios. Rich gameplay and engaging atmosphere propel the story and captures attention, promising danger and exploration throughout the many quests and video sequences. Enhanced AI, balancing standards, experienced authors, an active combat system, the innovative DEMONS magic management, and the PAPAK alchemy system guarantee enjoyment for new and experienced gamers. An artistic system of attack and defense moves has been integrated into the game. Parries and changing hit results creates a real opportunity for tactics and excitement, as the AI engage in combat and employ strategy of their own. The game also offers extreme flexibility in the weapon and armament design possibilities. The cornerstone at the heart of this feature is the newly created 'CRAFT' tool. Players can break down items into their basic materials and create new unique items. "Two Worlds II" is also graphically superb. The powerful GRACE engine offers technological highlights such as an unlimited number of dynamic light sources, 24 bit HDR post-processing, and Real Eye Adaptation. It will drastically reduce loading times, improve general game performance, and enable full gameplay with only moderate hardware requirements.
A flexible combat system with variable attack moves, parrying and special tricks
State-of-the-art technology, thanks to a powerful GRACE engine and special tools
Lots of mini-games for breaking up gameplay
Intuitive user interface for the DEMONS Magic system and the PAPAC Alchemy system
Mercenaries and magically-created beings accompany the player
Complex object management with movable and usable items
Special CRAFT tool enables the individual configuration of armor and weapons
Many Boss opponents, including special combat strategies and unique rewards
Flexible MoSens system guarantees realistic every day and combat movements
Various ways of moving, like walking, running, sprinting, riding, swimming, sailing and teleporting
Captivating background story with numerous cutscenes
Extensive Multiplayer part including building/setup simulation
Buy Two Worlds II today for $7.49 and save 75% off the regular price of $29.99.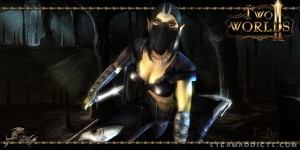 Two Worlds Poradnik Two Worlds Poradnik