Update (1:45 PM EST):  Mod developers, be sure to keep checking in to Bethesda's ever-expanding Creation Kit tutorial playlist  on YouTube.
Update (1:58 PM EST) : Also, be sure to check out — and add to — Bethesda's Creation Kit Wiki.
Update (3:15 PM EST) : @DCDeacon – "If CK, mods, wiki, Steam Workshop aren't working, it's because the lot of you showed up en masse and broke it. Sit tight, we're on it."
Update (5:45 PM EST) : Bethesda Blog seems to be back from the dead now.
This will no doubt be a day long-remembered in the history of The Elder Scrolls series.
Bethesda has rolled out support for Creation Kit today, as well as coming through with a promised "surprise" in the form of the High Resolution Texture Pack free downloadable content.
The release of the Creation Kit was announced back in early December as was supposed to drop last month, but missed the mark ever so slightly.  The Creation Kit will allow mod developers to make much more in-depth creations than previously possible, and Steam Workshop will allow players to browse, rate, and download the mods directly through Steam.
And could it get any better than that?  Why, yes it could!  Skyrim is on sale during Midweek Madness for 33% off ($39.99, regularly $59.99) until Thursday, 4PM PST.
We have yet to receive the new "official announcement" from Valve, and it looks like Bethesda's blog is overloaded right now.  In lieu of these two sources, you might want to keep up on Pete Hine's (Director of PR) Twitter.  He's pretty stoked today.
Time to go play some Skyrim!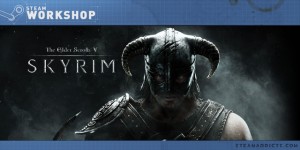 skyrim: high resolution texture pack (free dlc)
,
bethesda hi-res dlc optimized
,
skyrim high res dlc
,
skyrim high resolution texture pack (free dlc) download
,
skyrim high resolution texture pack dlc