If you're like me, and have been obsessing over Bethesda's newest title Skyrim, then you know just how impressive the game is.  Everything from it's vast rolling hills and snow capped mountains, to it's overwhelming amount of quests and dungeons to explore, we just cannot get enough of this wonderful game.  However, that doesn't stop some people from adding even more to the game, and it sure as hell doesn't stop us from downloading as many mods as we can.
Let's face it, Mods are awesome, and gamers can never have enough awesome.  So here is our first Mod spotlight, highlighting some of the best modifications for Skyrim that have been released so early on in it's lifespan.  Will you still be using some of these by the time the next Elder Scrolls game gets released?  Well, that's for you to decide.  Let's get started.
#3:  Detailed Faces
Modder Xenius, over at the Skyrim Nexus, has crafted a little mod that really does help clean up some of the character faces.  Although Bethesda did a great job, many people have been wanting more out of character textures, especially faces.  Well, now we have it.  This mod modifies every race's face textures to look noticeably more detailed, regardless of sex.  Here's what they look like, and check this link to download the mod!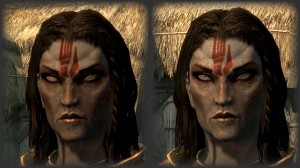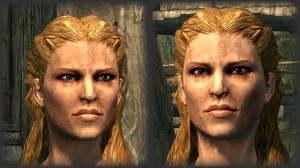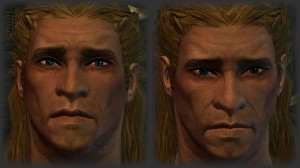 #2:  Enhanced Blood Textures
dDefinder, another modder at Skyrim Nexus has released a killer modification that adds blood marks on the ground.  We all know you fighters and Companion members out there will enjoy this one.  On top of adding a little more realism to the game (ever wonder where all that blood goes when you hit someone with your 2 handed sword?) it makes the game much darker, and grittier as well.  Download it here, or you'll be branded a milk drinking Stormcloak.

#1:  Display Time on Loading Screen
Probably my favorite mod to come out so far, Display Time on Loading Screen does exactly what it says.  It relays your pc's clock every time you hit a loading screen in game. Now, you might think this is a joke, or nothing cool, but trust me.  After endless hours of ripping through this game, you'll be glad you downloaded this.  Never again will you miss work, errands,  or anything super important because you were too busy beheading Thalmor agents or feasting on the Silver Hand.  Big thanks to Kenney over at the Skyrim Nexus for pumping this mod out.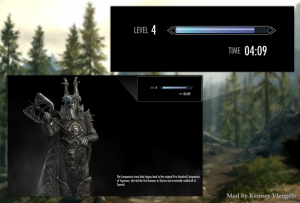 As always, keep checking back at Steam Addicts for more on Skyrim, and the other heavy hitters of 2011!  As for our Mod Spotlight, it's only just begun.
skyrim dismemberment mod
,
skyrim gore mod
,
skyrim dismemberment
,
skyrim gore
,
skyrim cover
,
skyrim blood mod
,
skyrim nexus
,
skyrim more blood
,
skyrim gore mods
,
skyrim mod