SkyrimForge, the Skyrim modding website hosted by the Curse network, is giving away 15,000 bucks worth of prizes to the people that help keep our games alive.  The modders.  Are you a modder that knows their way around the construction set?  Then this contest might be the one for you.  On top of it being a great way to get your name out there as an independent modder, it's also a big chance to score a fat sack of Septims to spend in real life.
The first 35 uploaded mods that meet SkyrimForge's guidelines  in the four major categories will be eligable for winning.  Here's a cool graphic they made to show what wins what, and the different categories available.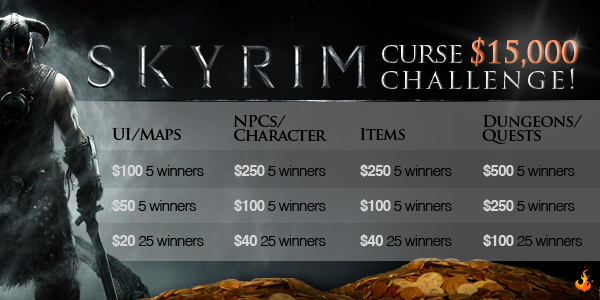 Over 140 mods can win some cash!  So make sure you have your submissions in before the deadline on November 15th.  For the full terms of service, click here.  We all know mods are what made Oblivion the game we know and love, so let's make Skyrim just as classy.
skyrim mods
,
skyrim perk mod
,
skyrim race mods
,
skyrim change race mod
,
skyrim mods steam
,
skyrim race change mod
,
skyrim steam mods
,
skyrim perk mods
,
skyrim perks mod
,
skyrim mods on steam