Valve, creator of best-selling game franchises (such as Half-Life, Left 4 Dead, and Counter-Strike) and leading technologies (such as Steam and Source) and popular recording artist The National, today are announcing the winners for their music video contest based on "Exile Vilify", a song penned by The National specifically for Portal 2, which is the year's highest rated multiplatform game release.
The contest, which ran for over a month, tasked the community to make a music video for the song using whatever visuals they wished. Entries ranged from animated shorts, stop-motion, puppetry, and live-action. Over the duration of the contest, over three hundred entries were submitted.
Valve and The National, with the help of their respective communities, helped select two first-place winners in a virtual tie, both of whom will win a prize package. The winning entries, in addition to many honorable mentions, can be viewed at http://www.thinkwithportals.com/videocontest/
Portal 2 is available for Playstation 3, Xbox 360, PC and Mac. For more information about Portal 2, please visit www.thinkwithportals.com.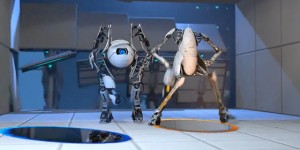 portal 2 wallpaper