When the fate of the world must be decided, an unlikely hero is born!
Sadwick's adventure starts as he embarks on a quest to find an explanation to his recurring nightmares. In his dreams, he is chased by a mysterious blue orb as the world around him collapses.
His worst fears are confirmed when he consults Shana, the old wise woman. Not only does she prophesize the end of the world, but that Sadwick is the CAUSE of it.
Defy the prophesy and experience an adventure like no other!
Key features:
Solve mysterious riddles and challenging puzzles
Meet an incredible array of wondrous characters in a vast beautiful world
Experience a massive point and click adventure
An unforgettable and epic story
Unlike some of the games that get thrown up on the daily deal, This one is so totally worth the money it's ridiculous.  If you're a fan of the dying art of adventure games, then The Whispered World is the perfect little blast from the past that will  charm the pants off of you.  It's only $5.00, down from $19.99.  Check it out here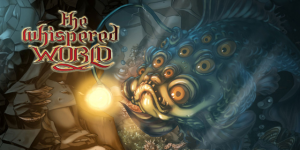 .