The game takes place in 2027. The global economy crashes and conflict over natural resources leaves America in ruins. The American military has gone to pieces and is helpless to resist the growing occupation of the Greater Korean Republic. America stands alone, having lost all her allies, the country is left torn and broken. Once a diverse nation of people, the population consists of prisoners, collaborators or revolutionaries.
Join the revolution and fight for freedom once again. The single player campaign, written by John Milius (Apocalypse Now, Red Dawn) offers cinematic first-person shooter action in a feasible plot of the future. Capture and control military vehicles, drone technology and utilize guerrilla-style tactics to take-out the enemy as you fight across the country with a cast of memorable characters.
Multiplayer combat consists of infantry, tanks, helicopters and drones battling over large, open battlefields. An array of features offers layers of depth combined with game-changing innovation set to define a new level of multiplayer warfare gaming.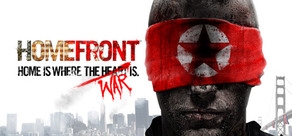 Homefront on Steam
– $24.99 (50% – weekend)